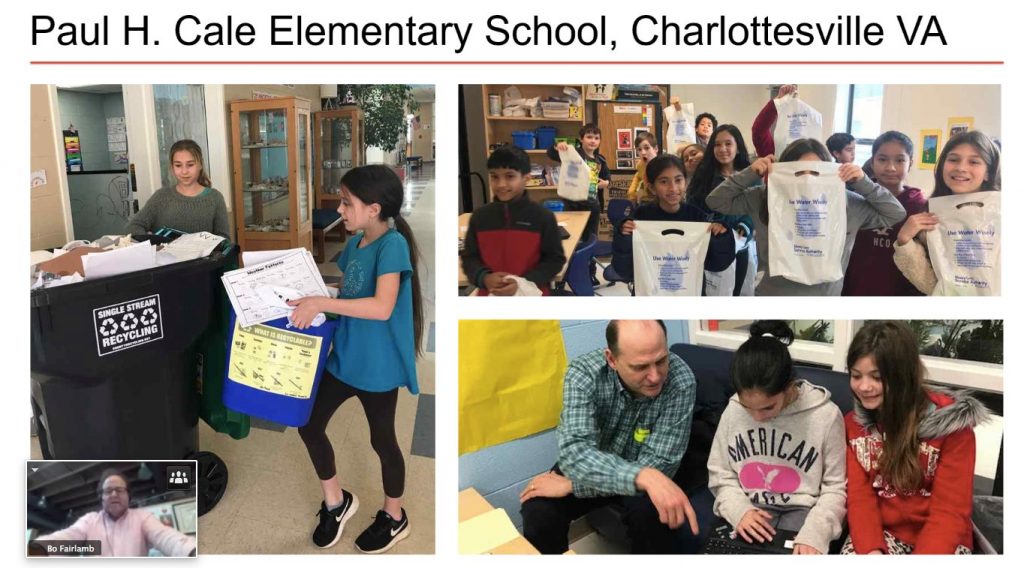 2RW would like to congratulate the Connect-the-Dots team from Albemarle County's Cale Elementary School (now Mountain View Elementary) for winning USGBC Virginia's Outreach Award!
The team—comprising all Cale 4th and 5th grade students (approximately 200 total), school champion Terry Graff, and several community and industry champions—also included 2RW's Mary Beth Greer, a mechanical engineer and USGBC Virginia member. USGBC's Connect the Dots Green Schools Challenge encourages K-12 schools across Virginia, Washington, D.C., and Maryland to develop and implement the most creative, effective, no- or low-cost sustainable practices for their schools. It aims to increase environmental stewardship, strengthen community outreach, encourage creativity, and complement curriculum development.
The team was selected for the award because it successfully engaged students, families, and community members in authentic, project-based learning about their carbon footprints. Despite an interrupted school year, the team successfully:
Worked in groups to investigate the questions "what is our carbon footprint?" and "why is it important to reduce it?"
Took action by writing letters, implementing low-cost initiatives such as lunch time composting, and improving the school recycling program
Involved the community through guest speakers and resource donations
Created a video demonstrating their research and findings
Shifted a planned Earth Day STEM night to a virtual event where they presented their findings and engaged students, families, teachers, and school administrators safely from home
Mary Beth Greer was inspired to participate because it allowed her to work with children and teach sustainability—her two greatest passions. She shared low-cost strategies for reducing energy at school and at home. She also taught the students about the important role building design plays in reducing energy usage through choices about insulation, windows, and the building's HVAC systems.
Other community businesses and organizations also participated:
Jefferson-Madison Regional Library provided Kill A Watt Kits to measure electricity use
Harris Teeter donated reusable bags
McIntire Recycling Center provided educational resources around the practice of reduce, reuse, recycle
Virginia Department of Forestry provided saplings for planting
WaterSense provided resources to teach water conservation
Students from Monticello High School taught about beekeeping, greenhouses, composting, and aquaponics
Congratulations to everyone who helped the Cale Connect-the-Dots team win this award!